LoveThatDoggy Dog Bathrobe
Keep Your Fur Baby Warm and Dry!
If you Love That Doggy the way we Love That Doggy, then this Super Soft and Super Absorbent Dog Bathrobe is a must have!
Protect your dog from catching a cold after a bath or playing in the rain!  Protect your home or vehicle from getting wet when your furry pal has that irresistible urge to shake off excess water.
Our doggy bathrobes feature super soft material with fast water absorption, drawing water off your dog's skin and out of the fur. 
The dual Velcro straps wrap around your pet, keeping the dog bathrobe securely in place, unlike traditional dog towels.  Now your family pet is comfortable, warm, and dry!
It's Doggy Bath Time!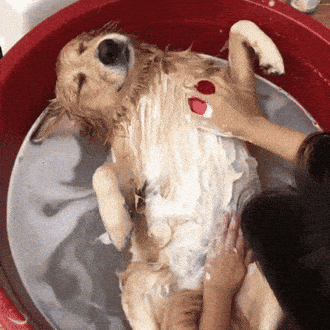 Maybe it's not your dog's favorite time, but it definitely has to happen.  We have to wash them so let's help them dry fast and stay warm.
Our Soft Dog Bathrobes not only help your pet stay dry and warm, but you stay as dry as possible after giving your dog a bath.   
Wrap your fuzzy boo up with an absorbent Love That Doggy Bathrobe when you're done with the wash.
You might not be able to avoid the first shake but catching the second shake is definitely possible.  Your dog is going to feel warm, safe, and comfortable in our super soft and fast absorbent dog bathrobe. 
When it Rains it Pours!
Have you ever been caught in a rainstorm while being out with your dog, or maybe your dog just loves to play in the rain?
When you take your dog for a walk do they like to jump in the puddles?
Maybe your fur baby is also a beach baby.
Regardless, there are several different ways that your pet dog could get wet while you're on an outing. 
Our dog bathrobes are perfect to keep in the car for the times when these things happen.
Not only are you keeping your furry pal dry and comfortable, but you're also protecting your car's interior from the dreaded wet dog shake.
They can't help it!  When a dog gets wet it shakes off the excess water.  Our soft absorbent dog bathrobes can help prevent the water from spraying all over your car.
One's Not Enough
Having a pet is just like having a child.  Life happens, and sometimes life is wet!
You already know what to expect at bath time, but what about other times?
Stay prepared for unexpected water adventures by keeping an extra dog bathrobe in the car.
Order 2 for $69.95 or 3 for $89.95!
Discount taken automatically at checkout